Luminara is Jedi Master and a General in the Clone Wars, as is also a most valued adviser on the Jedi Council.
She was born on the Planet Mirial and was taken into the Jedi Order at a young age and took on the rank of Master at start of the "Invasion of Naboo" according to the archive.
She like Captain Argyus in my last review appeared i
n the the
CW series: Episode 9 "Cloak of Darkness"
. Luminara was there to ensure that Nut Gunray reach
Coruscant
unharmed.
However during their travel to Coruscant, the Republic Cruiser "Tranquility", fell under the attack of the Separatist and was boarded by Super Battle Droids & Asajj Ventress in their attempts to either save Gunray or to silence him.
Luminara nearly fell to the Ventress, if not for Padawan Ahsoka which saved her life.
Here's
a look at the latest Jedi Master to add to our every growing collection!
Points of Interest:


- Great detailing on apparel, as you can see below, nicely detail

"Sash", belt buckle & arm band:
- Unlike the other Jedi Master example Kenobi or Windu figures which have no articulation in the legs,
Luminara figures
comes with
Ball Hinged legs!
Packaging:

image packaging is with reference to
: www.rebelscum.com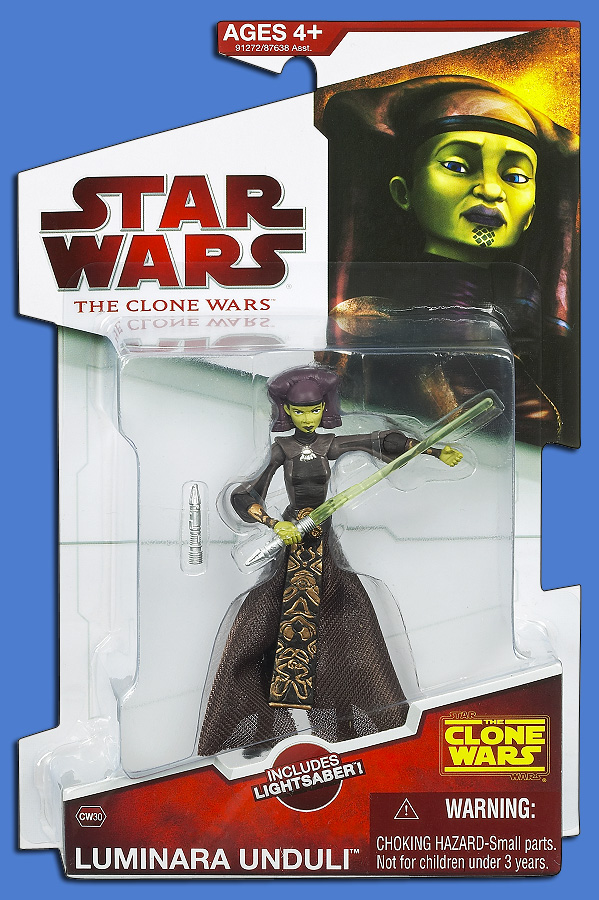 Weapons & Accessories:
- 1x Light Saber
- 1X UN-lit Light Saber


Articulation

:
A Closer look at the Luminara facial Sculpt:
According to the archive's her patterned tattoos is a traditional of Mirialan, which is a reflection of her somatic commitment. its
Nicely detailed
and can be seen under her lower lip:
Over view of the Figure:


My Comments:

Likes:

- Detailing on the figure apparel, very nicely done.
(especially the Sash)
- Facial Scuplt much nicer then the Movie ver, again nicely detail tattoo under her lower lip.


Dislikes:
- Foot Base small, thus figure very unstable/hard to stand (like Cad Bane)
- Hands - her light saber keeps pooping out...
(cause small palm)
My Verdict:
In terms of Detailing this figure is
Spot On!
With a Great Facial Sculpt.
Posing/standing this figure can be a real challenge! throughout the entire photo shot for this post, i had to use "Tack it" to keep it standing, cause it kept falling over. which was very similar to Cad Bane figure.
http://starwarsilike.blogspot.com/2009/06/cw-cad-bane.html
However if you can look pass this issues, the figures is reasonably Great! and would be great to have next to Commander Gree & his 41st elite corps!
Ratings:



Overall:

9/10



Packaging:

6/10



Figure:

7/10

(minus point on Stability)




ToyShop:
:
E-Bay: Unlimited8899

(seller sells them carded or lose)
E-Bay Seller Store:
http://stores.shop.ebay.com/unlimited8899__W0QQ_armrsZ
More Pictures I Have!
- Click to enlarge -
For Questions Please email me at
starwarsilike13@yahoo.com
or
dennisfwc@gmail.com
or leave a comment by clicking on the word
"comment" below.

For the latest updates and upcoming reviews follow me on twitter at:
http://twitter.com/starwarsilike
Keep visiting & May the Force be with you!