Waxer & Boil

from the 212th Battalion!In

Ghost Company

.

Waxer (left) & Boil (right) as shown below:
They Both appeared in the CW animated series;
Episode 20 Innocents.of.Ryloth
, the Series starts after Anakin & Ahsoka were able to destroy the Separatist blockade surrounding the planet, thus allowing the ground invasion forces to land.
General Kenobi then led his 212th Battalion "Ghost Company" on land assault as to destroy the Heavy Artillery that prevents General Mace Windu from landing the Republic Transports.
Before Reaching the Heavy Artilleries, Kenobi asked Commander Cody to pick his best men to scout ahead to see whats the enemy planning.
Which Cody picked out
Waxer & Boil
....
And Now
.....for the Preview of the Best of Ghost Company,
Waxer & Boil
.
This figures will be package into a Battle Pack along with
Mace Windu & Commander Cody
.(According to most sources, Hasbro has confirm to maintain 4 figures per Battle Pack)
However Note that the figures i about to show you are
"prototypes"
and are about 80% completed with the following to complete:
While Taking the pictures, i notice that my Waxer is shorter then Boil....i hope the actual figures are not like this, here are the close up to show the differences in height:
And my Boil does not have his sling bag and his heavy weapon (i said this because i cant make out what his carrying), here a clearer picture of the entire squad at SDCC 09.

(Image with reference to
www.rebelscum.com
)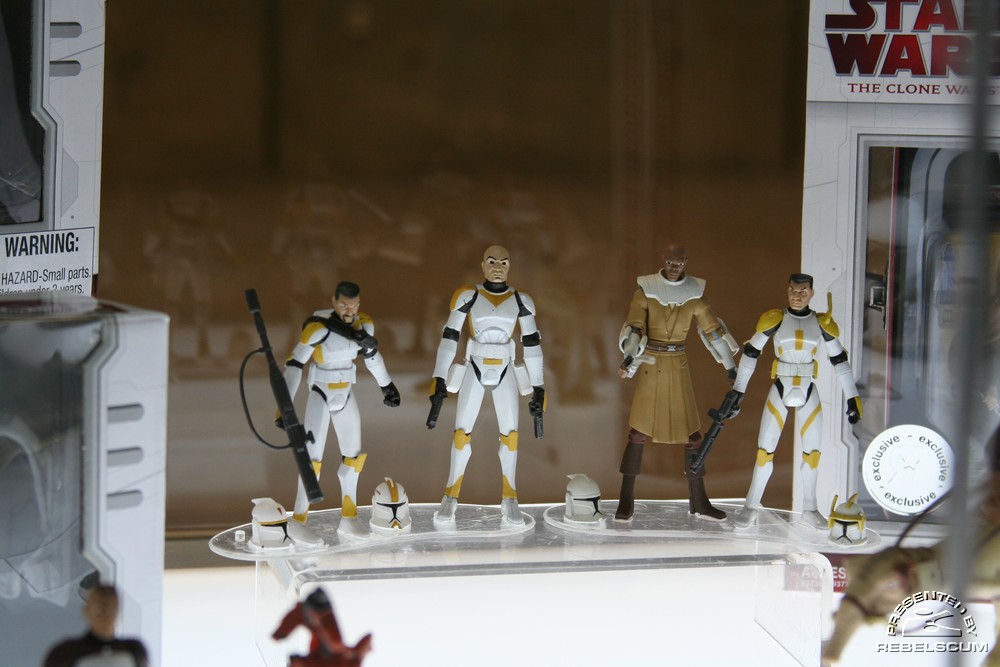 Color Comparison


- Waxer & Boil has lighter shade of Orange then 212th battalion BP 08 figures:


Articulation

(applies for both)
Clone Trooper Boil Figure:
A Closer look at the Facial & Head Sculpt:
His Mustache too thick and should stretch more all the way to its chin. Image shown below to compare:
A Closer look at the Boil Helmet Sculpt:
The triangle on his helmet looks exactly like the one on
B

oba Fett Concept figure, no?
Over view of the Figure:


Random Photo's of Boil:
Clone Trooper Waxer Figure:
A Closer look at the Facial & Head Sculpt:


Unlike Boil figure, Waxer has a closer facial sculpt to the actual character.
A Closer look at the Waxer Helmet Sculpt:
Over view of the Figure:
Wonder whats that peg hole for? (maybe its for jet packs?), has the same twin working holster as clone trooper Jek:
http://starwarsilike.blogspot.com/2009/06/cw-senate-security-jek.html
Random Photo's of Waxer:
MACE WINDU
Which also comes in this battle pack and you would wonder why? Hasbro would included Windu and not Kenobi? (as Kenobi commands the 212th Battalion) and plus in Episode 20, Windu made some brief appearances, as seen below:
To my opinion, it could be because that Kenobi, Anakin & Yoda has been in the last few BP, therefore the next best choice of Jedi, Would be Windu!
Comes with Clean Battle Armor! (yeah....great joy...)
OMG..Ugly..the Money spend making its Battle armor, should have gone into making
Windu legs articulated!
My Comments:
Although the figures shown here are just
"prototypes"
of whats to come!

Waxer & Boiler figures are looking quite awesome!



However just purchasing a BP for just these two figure, is kinda a waste of money......but knowing us collector, we still will buy the BP just to get Waxer & Boil, no?





I said it is a waste of money because Windu figure is the same as the single carded, just that the BP version comes with

clean battle armor/gear

and Cody still the same old figure, still without a

revised Helmet Sculpt

. (which i didn't even bother to feature it in this post)



So lets see when the actual BP comes...for now here are some random pictures for your viewing pleasure...




More Pictures I Have!
- Click to enlarge -
For Questions Please email me at
starwarsilike13@yahoo.com
or
dennisfwc@gmail.com
or leave a comment by clicking on the word
"comment" below.

For the latest updates and upcoming reviews follow me on twitter at:
http://twitter.com/starwarsilike
Keep visiting & May the Force be with you!