Shawn wrote in asking where did i get Matchstick as i have it in the pictures of my review of the V-Wing.
While to answer your question, i actually review Matchstick prototype helmet a while back in
June
and gave a some
background, Screen Shots & Close Up
of the awesome detailing of its paint job on its helmet. Its Currently out in the US as i seen many SW site adding it to their photo archive and as for my dear collectors in Malaysia...only GOD knows when Hasbro Malaysia decides to bring this in......
Anyhow since i got the complete figure from my good friend at Unlimited 8899 E-bay Toystore, Here's some more pictures for you guys!
But First to recap on its

background

:

Matchstick is a clone pilot in

Shadow Squadron

,who goes on a fatal mission to destroy a Separatist ship (

The Malevolence

)
In the Series he flies a Y-Wing fighter (which also has not arrive here!) to attack the huge vessel armed with a deadly ion cannon.

Due to Anakin recklessness his lost many of
Shadow Squadron pilots on the assault of the Malevolence, including matchstick.
My Previous Review:
http://starwarsilike.blogspot.com/2009/06/cw-clone-pilot-matchstick.html
Now for the figure:
Packaging:
As i got it of e-bay it does not come in packaging, so here's an image with reference Rebelscum.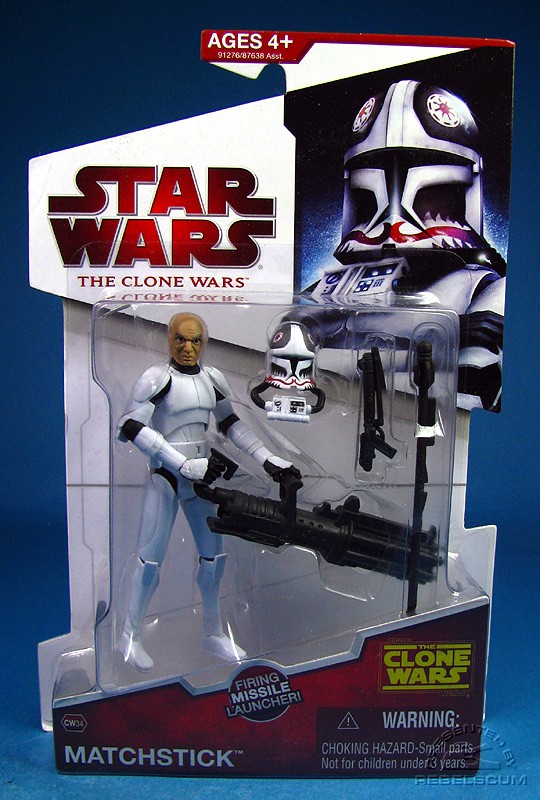 Articulation:
Weapons & Accessories:


1) 1X Rotary Cannon (with firing missile launcher)
2) 1X DC-15 Blaster Pistol
Overview Of The Figure:
Close Up Of Helmet Sculpt:
The revised helmet sculpt looks great compare to the prototype which i mention that the tougue was not fully curved like the original version:


My Verdict
Match Stick is the second clone pilot figure to be release in the CW toyline, apart from Odd Ball!
Matchstick leaves collectors with Jaw-Dropping expression after seeing its AWESOME paint job of its helmet and i believe he is only the start....
And we are for sure to see more custom clone pilot helmets made into action figures in the near future!
So keep your figures cross and hope for more to come! But for now, simply pick up Matchstick and ENJOY this Great figure.
Ratings:


Trooper: 8/10
Accessories & Weapons: 7/10



Overall: 8/10




ToyShop:
:
E-Bay: Unlimited8899

(seller sells them carded or lose)
E-Bay Seller Store:
http://stores.shop.ebay.com/unlimited8899__W0QQ_armrsZ
More Pictures I Have!
- Click to enlarge -