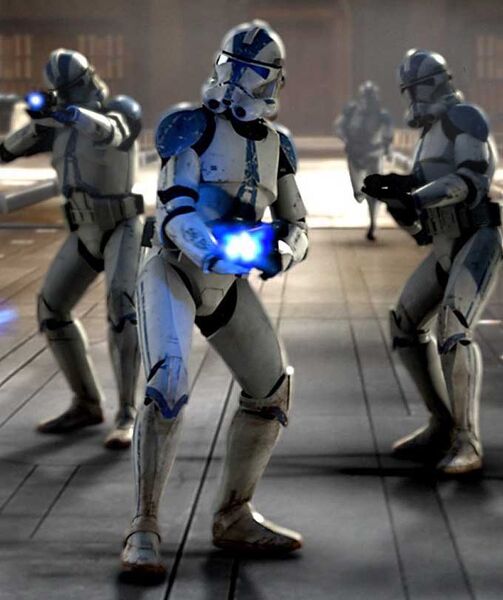 THE

501st Legion

!
During the SW era they were know as "
Vader's Fist
" and The CW (Galactic Civil War) they were called the
Five Hundred and First.
This troopers are commissioned by the Dark Emperor himself during his days as the Supreme Chancellor! This trooper are trained and base in Coruscant itself and fought in some of the most notable battles of the Clone Wars!
This AWESOME legion made its first appearance in the EP 3 Revenge Of The Sith, as Anakin has fallen to DARK side and led this MIGHT legion up the steps of Jedi Temple (a breath taking scene..)to eradicate the remaining Jedi Knights & Apprentices , this move was classfied as "Operation Knightfall".
- images above are with reference to "google"
Here we have the 501st Trooper figure which took part in that scence, they have been re-issued countless times from 2005 till now!
But who's to complain, it troopers? and more troopers are always good! =P
Here's a look at The Packaging:
sorry its a little dark, to busy to re-shoot so it took from my post of 09 up coming figures:
http://starwarsilike.blogspot.com/2009/06/whats-new-saga-legends-2009.html
Articulation
:
A Closer view of Detials:
Weapons & Accessories:
-
Communications Antenna (removable)
- DC-15 Blaster


Battle Gear:


• DC-15 Blaster
• DC-15 Blaster Rifle
• DC-17 Blaster
• Droid Blaster
• Blaster Rifle
• EMP Launcher

Closer view of facial sculpt:


360 view of 501st Trooper

(full view)

:
My Comments:
Likes:
- Over all nicely painted & detailed figure. (with morderate battle/blaster damage)
Dislikes:


- None.


My Verdict



Altough this figure has been re-issued countless times, its still a GREAT Figure to have or for army buildig.

Cant wait to do a diorama of 501st marching up the Jedi Temple Steps with Anaking leading them!

If you have miss out the previous waves from ROTS or the Saga Collection then this figure is a must to pick up, for any troopers collectors! and if your not then probably this is the figure you should start with?

Dont miss out on this wave!


Ratings:



Overall:

9/10



Packaging:

7/10



Figure:

8/10

( great paint schme, colored detailing & morderate battle/blaster damage)




Selling Price:
RM 39.90 each (at toyshops)
ToyShop:
:
E-Bay: Unlimited8899
E-Bay Seller Store:
http://stores.shop.ebay.com/unlimited8899__W0QQ_armrsZ1
More Pictures I Have!
- Click to enlarge -
The 501st Trooper
The 501st Trooper & Anakin
(or Darth Vader by this time)
i have darken the images, a little to give them their dark aura...
The 501st Trooper Assult the Jedi Temple

Quinlan Vos was strolling pass so rope him in for a few photo's....
(Note that no Jedi or Clone was hurt in this photographs)
For Questions Please email me at
starwarsilike13@yahoo.com
or
dennisfwc@gmail.com
or leave a comment by clicking on the word
"comment" below.

For he latest updates and upcoming reviews follow me on twitter at:
http://twitter.com/starwarsilike
Keep visiting & May the Force be with you!